Laser Pain Relief Therapy
Laser pain relief therapy offers quick, drug-free pain relief for those suffering from acute and chronic pain. Get quick relief from Plantar Fascitis, Neuropathy, Foot/Ankle Pain, Knee Pain, Hip Pain, Back Pain, Neck Pain, Shoulder Pain, Tennis Elbow, Golfer's Elbow, Whiplash and more. Deep tissue laser therapy uses a beam of light to deeply penetrate tissue to promote healing. Laser light induces a biological response in the cells called "photo bio-modulation" which leads to reduced pain, reduced inflammation and increased speed of healing.  We are the only health provider in Greater Harrisburg to provide this wonderful pain-relieving treatment. Six to twelve treatments with this powerful laser may be all it takes to realize life-changing relief, and laser treatments take just a few minutes. Call us at (717) 533-6100 to schedule an appointment today!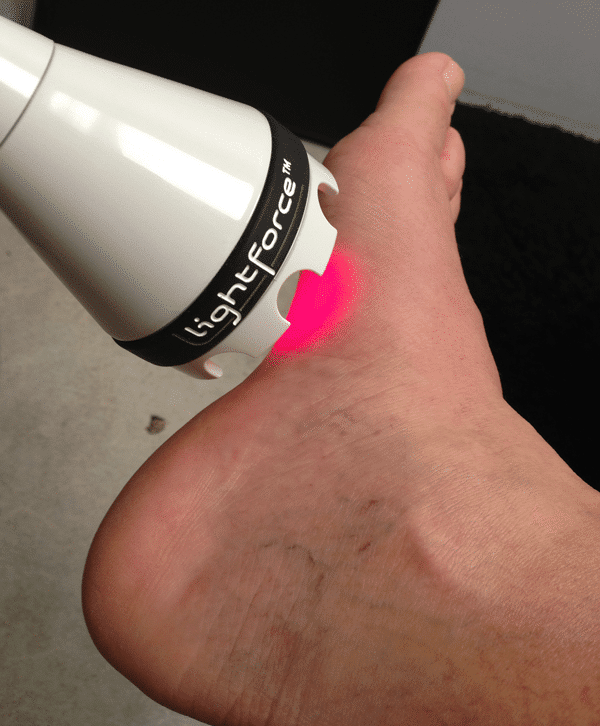 Many professional sports teams utilize laser therapy because of its ability to dramatically reduce recovery times and get injured athletes back in the game.
Advanced Pain Relief
Our practice is the first in the area to invest in a Deep Tissue Therapy Laser from LiteCure Medical. Deep tissue laser therapy offers drug-free pain relief for those suffering from acute or chronic pain.  Now we can offer you a non-surgical option that truly has the power to eliminate or significantly reduce your pain. Five to ten brief treatments with this powerful laser are all it takes to often realize life-changing relief. Deep tissue therapy laser works by flooding the tissues with photons, energizing the damaged cells and increasing circulation to the painful area. This produces a cascade of healing responses in your body, reducing inflammation, thereby reducing or even eliminating your pain. Treatments take just a few minutes, however the therapeutic effect continues to soothe and heal long after you leave the office. 
What To Expect From Deep Tissue Laser Therapy
Laser therapy is a non-invasive technique to help reduce pain and inflammation. Laser therapy can be safely used as an adjunct or replacement for pharmaceutical drugs. This pain relief treatment is FDA cleared and enables patients to have an alternative to drugs and surgery.
Laser therapy treatments last between 5 and 10 minutes depending on the condition being treated. Laser therapy treatments must be administered directly to skin, as laser light cannot penetrate through layers of clothing. You will feel soothing warmth as the therapy is administered.
Learn how LiteCure Laser Therapy can help you.
Conditions Helped
Deep tissue laser therapy is a non-surgical, highly effective treatment for lower back pain relief, neck, and disc pain, soft tissue injuries, chronic pain, joint conditions, arthritis, wound management, & inflammatory conditions. It can also prove effective for Fibromyalgia, tendonitis, osteoarthritis and more.
Laser therapy is a simple and painless procedure, and scientific studies have demonstrated a multitude of clinical benefits. Deep tissue laser therapy is commonly helps and can be used to safely and effectively treat the following conditions:
| | | | | | | | |
| --- | --- | --- | --- | --- | --- | --- | --- |
| Achilles Tendon Tears |   | Golfer's Elbow |   | Neuropathy |   | Strain/Sprain Injuries |   |
| Ankle/Foot Pain |   | Hand/Wrist Pain |   | Osteoarthritis |   | Tendonitis |   |
| Arthritis |   | Hip Bursitis |   | Plantar Fascitis |   | Tennis Elbow |   |
| Bursitis |   | Joint Injuries |   | Post Surgical Healing |   | Thumb Pain |   |
| Carpal Tunnel Syndrome |   | Knee Pain |   | Rib Injury |   | TMJ |   |
| Disc Bulge |   | Low Back Pain |   | Rotator Cuff Injury |   |   |   |
| Disc Herniation |   | Neck Pain |   | Shoulder Pain |   |   |   |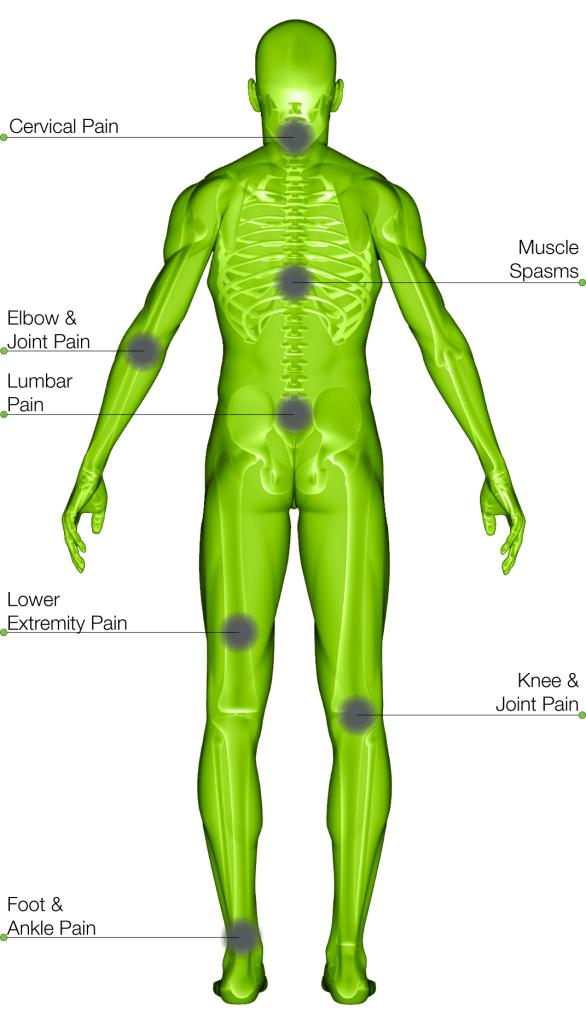 Is Laser Pain Relief Therapy Safe?
There have been over 2,500 research articles showing the safety of laser therapy and its positive physiological effects on impaired, inflamed, and/or injured tissue.
Benefits of Laser Pain Relief Therapy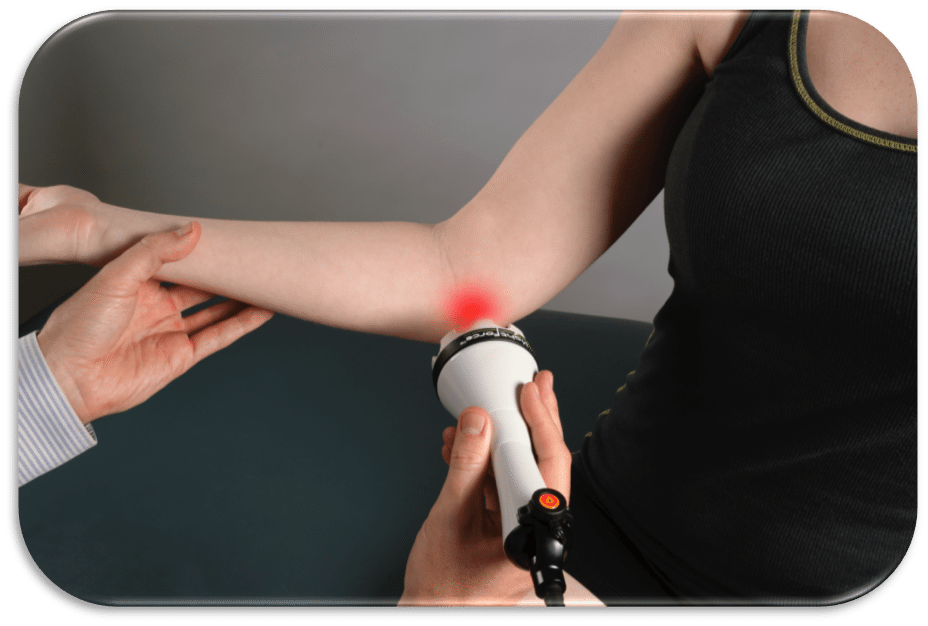 Promotes rapid cell growth. The laser accelerates cellular reproduction and growth.
Promotes faster wound healing. It stimulates cell growth in damaged tissues. The reduction in recovery time is an important consideration.
Increases metabolic activity, which can help with a variety of conditions, including tendonitis treatment, lower back pain relief, osteoarthritis treatment, and Fibromyalgia treatment.
Improves the quality of scar tissue following tissue damage from cuts, scratches, burns, or following surgery.
Reduces swelling caused by bruising or inflammation of joints.
Stimulates lymph and blood circulation to allow the affected tissue to have the best possible circulation.
Promotes nerve function. In cases of numbness, the laser helps speed the process of nerve cell reconnection.
Promotes the release of the body's own pain-killing chemicals such as endorphins and enkephalins from the brain, adrenal glands, and other areas, thus facilitating log lasting pain relief, including lower back pain.